Impulse Drive
Spaceport in lockdown? Dig into these holovids & audiologs to pass your time.
---
plague sweeps the galaxy
With general quarantine called, & all space ports in lockdown, there's a lot of freebooters & vagabonds stuck in one place with nothing to do. If you're in self imposed isolation & you need some entertainment, here's some Impulse Drive media for you to absorb . Spin up your holovid player & jam your sound buds in your auditory sensory organs, & dive into the archive!
Holovids
A lot of amazing roleplayers have recorded themselves playing or talking about Impulse Drive, as one-shots or series.
Adam Koebel's First Look
Adam Koebel reads through Impulse Drive live to get a feel of what it does and how. Adam's First Look videos have been a great way for indie designers to get their work in front of a lot of eyes, & Adam's enthusiastic approach to games through their designs.
Gauntletcon 2018 Impulse Drive: Dissidents of Quellish
I had the opportunity to run Impulse drive for an all-star cast of Gauntlet community members Rich Rogers from +1 Forward, Ferrel Riley From Gauntlet Huston, JD from The Chimaeracast podcast, & the fantastic Christo M during Gauntletcon. We go through setup, character creation, & an intense adventure with the amazing characters in 4 hours and it's a blast!
Impulse Drive Drifted: Coriolis
Lowell Francis from The Gauntlet shows off some masterful game design & GMing skills by adapting Impulse drive to the coriolis setting with a major rewrite, & then runs a fantastic series of sessions. I spent a lot of time in the drifting section of the game, trying to make tinkering as accessible as possible because I believe that groups should be empowered to make games their own. It's great to see Lowell embracing this idea & reworking the game to suit his group's purpose!
See more episodes here: Episode 2 Episode 3 Episode 4 Episode 5 Episode 6 Episode 7 Episode 8 Episode 9 Episode 10 Episode 11
Star Wars Saturdays
Rich Rogers has been one of the greatest advocates for Impulse Drive back when it was a little babby game in development. His & his groups enthusiasm for the game are not only great showcases of the game, but helped develop it into a better game! In Star Wars Saturdays, Rich adapts different games to fit the Star Wars setting, with rewarding effect.
Rich ran 2 seasons of SWS using Impulse Drive & they both show off the setting & game spectacularly. These seasons are separate stories, so you won't have to watch one to understand the other.
Season 2: Episode 1 Episode 2 Episode 3 Episode 4
Featherfall Tabletop Impulse Drive 1 shot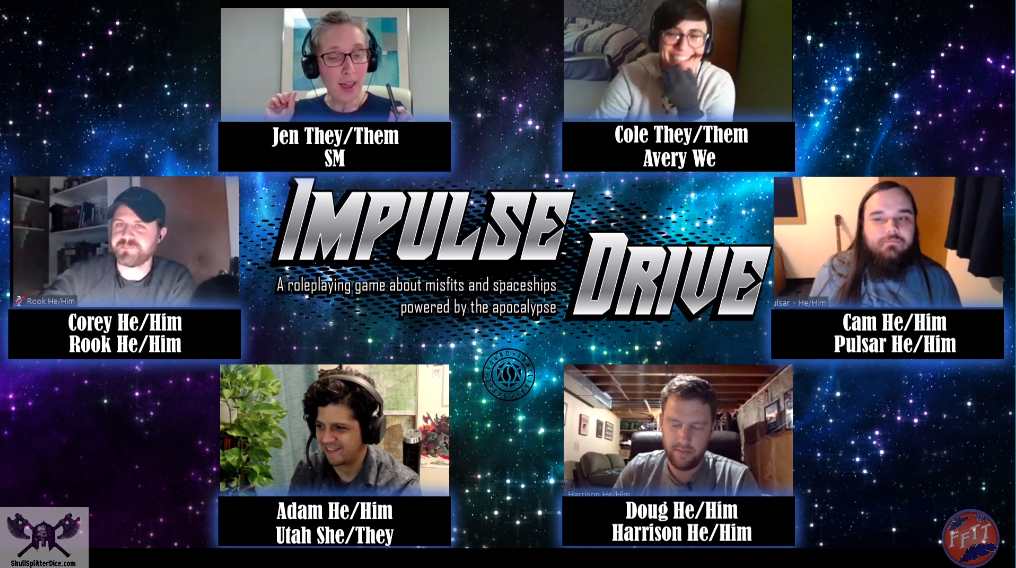 tune in to the Featherfall Tabletop crew's adventures in space
I was so excited when JenQuixote from Featherfall Tabletop reached out to me looking for tips on running Impulse drive as a one shot for the FeatherfallTT crew! I shared what insight I could, and supported them as best I could, & their game is amazing! Lots of incredible character drama brought by the players really makes this game a blast to watch.
Farscape Fridays: Impulse Scape
Did you think Rich Rogers was done kitbashing impulse Drive to suit existing IPs yet? Well you're in for a very enjoyable surprise! Rich shares my love for quirky 90s space opera Farscape, & shows that setting is a great fit for Impulse Drive with this ongoing series. Since Farscape was a major touchstone for the sort of situation Impulse drive thrives in, Rich & his players really make it work here. The best kind of fandom for me is people making a setting their own.
Happy Jacks RPG live: Impulse Drive Eberron
The Happy Jacks RPG Podcast creates so much amazing content, & this video is a great example that space opera adventure is a style of story as much as it is a setting. Watch the crew have fun adapting Impulse Drive to a fantasy setting and telling a robust swashbuckling tale of adventure & intrigue.

Audiologs
Lacking light-sensitive sensory systems? Prefer your entertainment to be cast to a audio pod or similar device? Here's plenty of Impulse drive content for you to dig in to!
Merely Roleplayers: Parallax Season.
Star here: Act 1 Part 1 Parallax Core
Matt & The Merely Roleplayers crew have so many amazing season of their podcast, including a 3 act arc of space adventures using Impulse Drive. The world they build is exciting & strange. The characters are endearing & entertaining. My favourite part is that each alternating episode is behind the scenes - a fascinating look at creating the characters & how the game's mechanics inform the players' choices.
Featured on: The Gauntlet Podcast Network.
The Gauntlet Community have been a great support to many indie games over the years, & their podcast has had some wonderful & frank conversations about impulse Drive throughout its development. Browse these episodes below!
Rich Rogers talks about Impulse Drive, a space opera PBTA game he's excited about

Rich invites me onto his podcast, +1 Forward, where we talk about PBTA game design & Impulse Drive.

Rich & co-host Rach talk about player agendas for PBTA games, including Impulse Drive.

Sherrie talks about playing in Lowell's Coriolis hack of Impulse Drive.

Party of One Podcast
In Party of One, GM Jeff Stormer has guests come on to run or play in 1-on-1 RPGs of different systems. In this episode, Jeff invites Rich Rogers on to run Impulse Drive for him, & it's a fun guardians of the galaxy - style comedy adventure. Two great players at the top o their game show how it's done in this one!