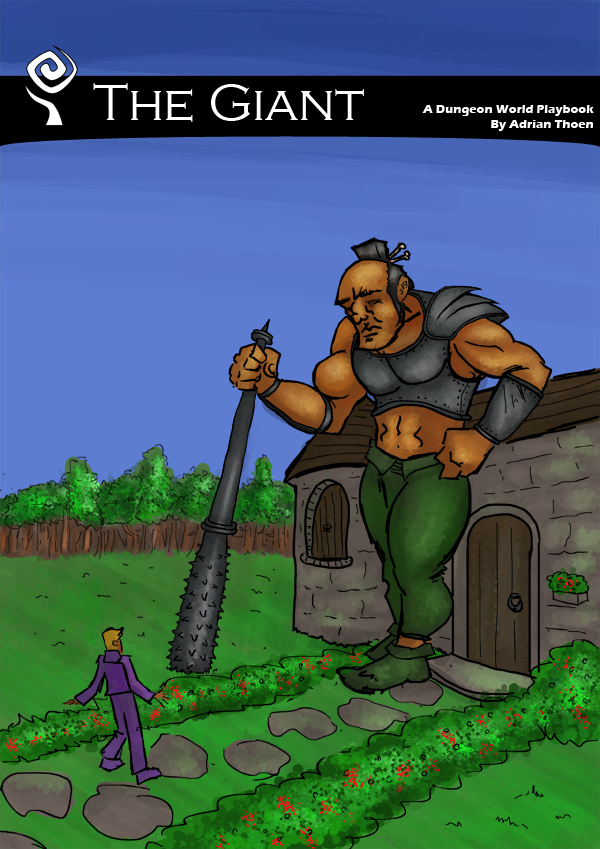 The Giant - A Dungeon World Playbook
"Fee, Fie, Foe, Fum! I smell the blood of a Smallfolk man!"
Oh the funny little tales the smallfolk tell about you. Little worlds about small deeds, their tiny mouth incapable of truly describing you and your deeds properly. Puny words like brute, thug, beast cannot do you or your heritage justice.
Your people have a duty that goes back into times the smallfolk can only describe as legend. Your heritage is a great part of you, it gives you your magic, your appearance, and your solemn duty. You may be a builder, a grower, a protector, or a balancer. With your magic and your size, you carry out your duty with implacable stoicism.
The Giant is a Playbook designed for use with Dungeon World and Inverse World. As The Giant, you will be towering over smallfolk, lifting great burdens, and using your heritage magic in the service of the age-old Duty handed to your people in the distant past.
The Giant uses Drives and Aspects instead of Alignment and Race, an exciting new way to describe your character!
Drives and Aspects are an exciting new look at Dungeon world classes that comes from the creators of inverse World, the upcoming book that will have a unique setting for use with Dungeon World. Keep your eyes open for Inverse World!
There are two versions of The Giant in this package, The Giant, which represents a noble, friendly creature, and The Giant Jerk, a selfish, vile monster. Each version includes a page that discusses using such a unique class in your game as seamlessly and enjoyably as possible.
This product is licensed under the Creative Commons Attribution 3.0 Unported License.
Purchase
In order to download this game you must purchase it at or above the minimum price of $1.99 USD. You will get access to the following files:
The_Giant_Jerk.pdf
217 kB
The-Giant-Cover.jpg
360 kB