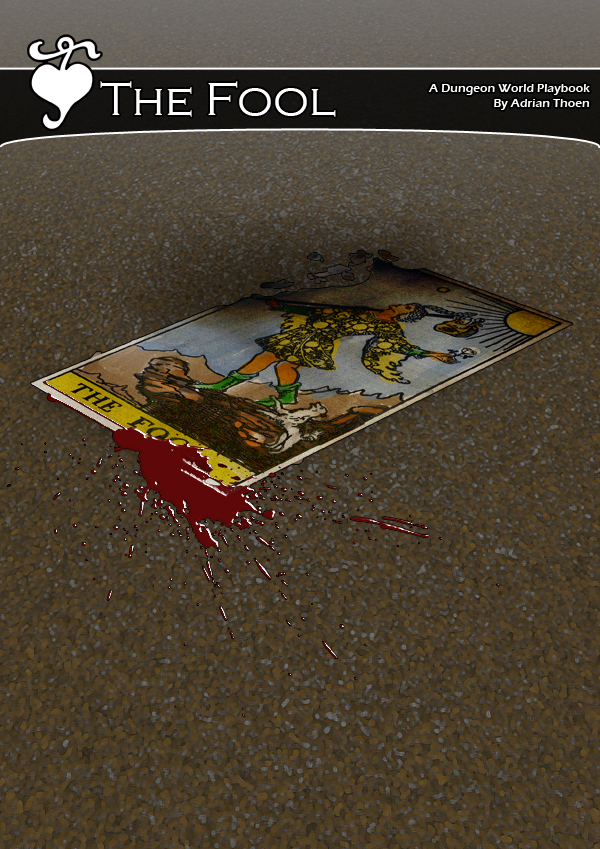 The Fool - A Dungeon World Playbook
You don't really understand why your companions make you sleep on the other side of the camp, or why they all shout "No!" when you go to investigate some curious thing. You're not sure if the big one has forgiven you for tripping them while they were fighting that huge beast yesterday. And you keep meaning to ask the one with the oily grin why they keep calling you 'scapegoat'.
You mean well, or you have grand designs, but nothing seems to go right. Disaster seems to follow you around, things often break or don't work right when you touch them, and people always seem either irritated or amused by you. There are a lot of things you don't understand, but you don't mind. you'll just keep bumbling through, and everything will turn out fine!
...probably.
The Fool is a Playbook designed for use with Dungeon World and Inverse World. As The Fool, you will stumble from mishap to calamity to disaster, failing forward and unwittingly leaving destruction in your wake. If you ever wanted to play a bungling buffoon and leave your party in stitches - figurative and literal, The Fool is your chance!.
The Fool uses Drives and Aspects instead of Alignment and Race, an exciting new way to describe your character!
Drives and Aspects are an exciting new look at Dungeon world classes that comes from the creators of inverse World, the upcoming book that will have a unique setting for use with Dungeon World. Keep your eyes open for Inverse World!
This product is licensed under the Creative Commons Attribution 3.0 Unported License.
Purchase
In order to download this game you must purchase it at or above the minimum price of $1.99 USD. You will get access to the following files:
The-Fool-Cover.jpg
592 kB